Award-winning, innovative electrical solutions
Established in 1989, SS Electrics is a progressive electrical contracting business based in Ballarat, Victoria. We are a leading provider of small to large-scale electrical services, including lighting installations, factory maintenance and project management for architectural, manufacturing and construction companies Australia-wide.
We value innovation, applying the latest in technology and sustainability across the industrial, commercial, mechanical and high-end residential markets. With expertise in the areas of robotics, PLC programming, high voltage switching and electrical product process design, our services and clients are unique.
Our award-winning electricians have produced turn-key plant solutions for Boral, and managed significant electrical installations for brands like Masters Home Improvement, R and J Batteries, McCain Foods and Telstra.
We proudly service all industry sectors, offering intelligent automation solutions and quality service at the right price.
Contact us to arrange a proposal or site meeting today.
Industrial | commercial | mechanical | residential electrical contractors
Winner
University of Ballarat Technology Park
Innovation and Entrepreneurship Award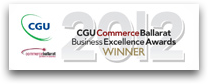 Winner
Nevett Ford Lawyers
Trade Business Award